What Is Level One?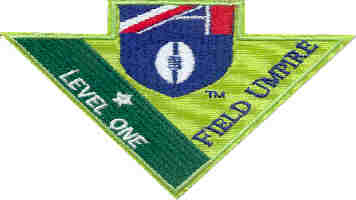 AFL umpires are accredited under a nationally recognised system of competancy based training. This training fits within the National Umpiring Accreditation Scheme and is recognised by the National Officiating Program and the Australian Coaching Council.
Level 1 is the first of four levels of coaching. Level 1 aims to introduce the basics of umpiring to new umpires during their first season of umpiring. As such, Level 1 is a survival course for new umpires and a basis of development and progression to Level 2 and beyond.
As the training is competancy based, umpires learn and practice at training the skills and knowledge that they will apply during matches. Coaching during matches is an integral part of Level 1 training. DEVELOPMENT OF SKILLS DEMONSTRATED TO AN ACCEPTABLE STANDARD DURING MATCHES OVER THE COURSE OF A SEASON, AND ATTENDANCE AT TRAINING SESSIONS, RESULTS IN ACCREDITATION AS A LEVEL 1 UMPIRE. This Accreditation is recognised nationally.
St George Umpires recognise the special nature of junior sport and ensure that umpiring skills appropriate to junior footballers are particularly emphasised during all training including Level 1.
Elements covered within the Level 1 package include:
Laws of the game
The spirit of the laws
Umpiring skills
The umpiring environment
Basic fitness